MicroMasters Program in
Supply Chain Management
Grow and Apply Your Talents with MIT's #1 Ranked Program
Create Account
Who are we?
The MITx MicroMasters® program in SCM is an online certificate program that consists of five graduate-level courses designed to provide learners with advanced education and career opportunities in the field of supply chain management. Half a million learners have already benefited from our program's rich content.
90-Second Program Intro
Upcoming Events
Topic: Leveraging AI in SCM: From Data to Delivery
Description: Join our webinar on Wednesday, September 20 to explore AI's impact on supply chains today and glimpse into the exciting future it holds. Dr. Eva Ponce, Executive Director of the MITx MicroMasters Program in SCM, and Dr. Edgar Blanco, VP of Supply Chain Strategy at Walmart, will discuss how AI is reshaping SCM, the keys to successful AI integration, and the importance of human-AI collaboration. Gain valuable insights into navigating challenges, and seizing opportunities for your supply chain.
The webinar will feature a 30-minute interview, followed by a 15-minute audience Q&A.

This event is free to attend and open to everyone! Whether you're interested in joining our MicroMaster program or just learning more about AI in supply chains, we encourage you to join us and share with your network! Register Here!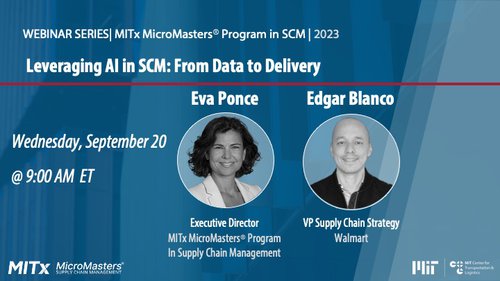 Topic: ML/AI Techniques to Handle Complex Challenges
Description: Join us for the last webinar in the Summer 2023 Series from the MITx MicroMasters Program in Supply Chain Management (SCM)! Course leads Laura Allegue and Kellen Betts will host Bhaskar Ballapragada, Chief Technology Architect at TroughPut Inc.

Interactions between supply chain entities (e.g., suppliers, customers, manufacturers, distribution, warehousing) can result in complex and often unintended consequences making planning for these using traditional techniques challenging. In this session, we will discuss new Machine learning / Artificial Intelligence techniques to handle these complex interactions with use cases of how variations in one or more entities (demand or supply lead times) impact the flow of goods, production planning, and overall supply chain decisions. We will look at examples such as how the seasonality of demand impacts optimization of resources and capacity management, how supplier disruptions can have cascading effects on fulfilling orders, the impact of parts availability on maintenance, and others.

Watch the Recording Here!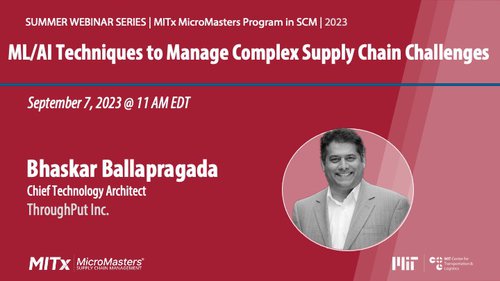 Our Mission
The MITx MicroMasters® program in SCM is designed to raise the knowledge of SCM professionals across the globe, educate the world for free, and provide a rigorous credential to qualified students at minimum cost. Subscribe for notifications when new courses launch.
What will you gain?
The MITx MicroMasters program credential showcases your end-to-end understanding of supply chain management. The credential offered by MITx and edX is an advanced, professional, graduate-level foundation in Supply Chain Management. Five courses and a final comprehensive exam represent the equivalent of one semester of coursework at MIT. These online courses offer the same rigor and relevance as the material taught on campus. With these courses, you will become the person people turn to when they want answers.
Boost your resume and on-the-job skills, or apply to a Master's
Boost your skills at work or build on the credential to apply to MIT's #1-ranked Supply Chain Management Master's Degree program. This "blended learning" program brings the successful MicroMasters program applicant to the MIT campus from January through June. Students earn the same degree as our full-time Master's students and graduate together in June. The MicroMasters credential is also a pathway to complete a Master's Degree either on-campus or fully online at many other universities recognizing credentials.
Join our global community with open enrollment.
You become part of a huge community of SCx learners when you join a course. There are more than 500,000 online learners from 190+ countries in our program. There are more than 4,100 MicroMasters Credential Holders. We've completed over 78 SCx courses and 12 CFx comprehensive exams. Whether enrolling for one course or the whole credential, we look forward to the talent you bring to our community.

Read our 2022 Impact, Outcomes, and Outlook Report (pdf download)
You can participate in an entire course for free. To earn a certificate, you can verify and pay the course fee. Upon passing a course, use your unique, verified certificate to prove your accomplishment. Enroll in one course, or if you are ready to jump in, purchase the whole program at one time here.
The MITx MicroMasters program in SCM will help you demonstrate your ability and proficiency in the dynamically changing field of supply chain management. We believe this program can help you achieve your goals. Do you have detailed questions?
View a short program overview.
Understand the program content.
Enroll in any course on edX and gain access to the online community (edX sign-in required).
Learner Voices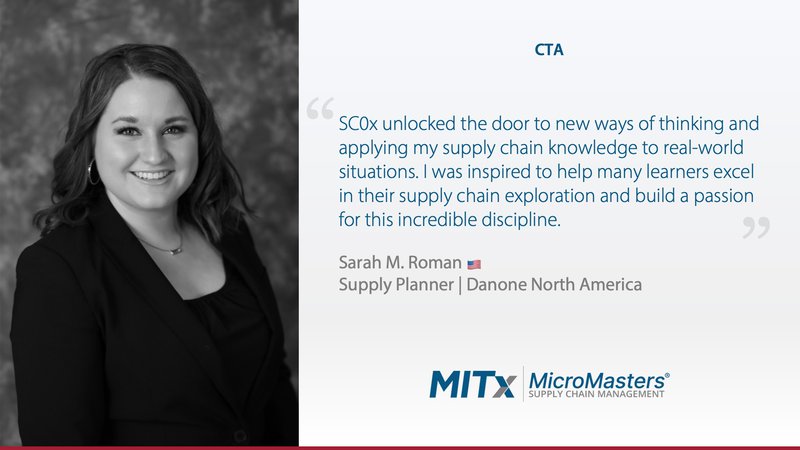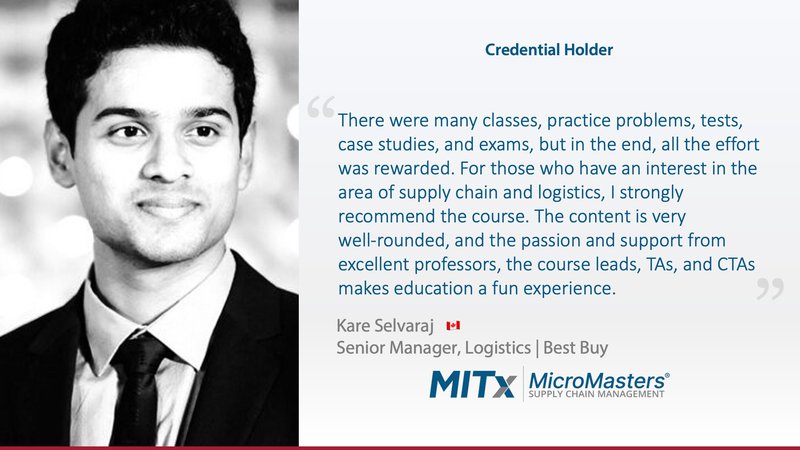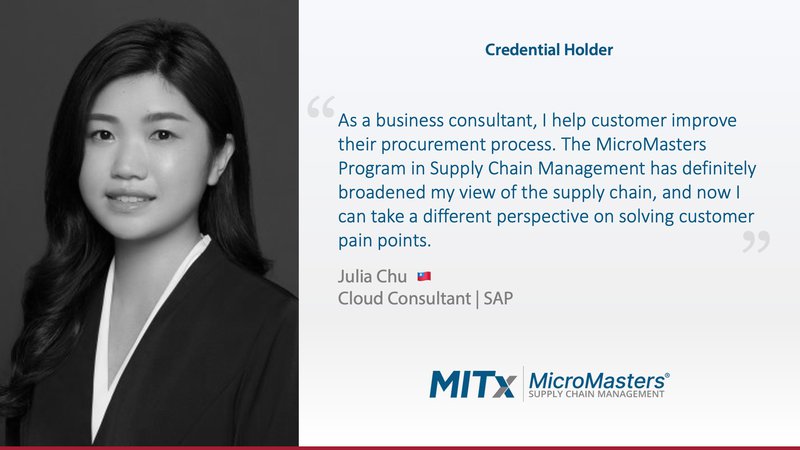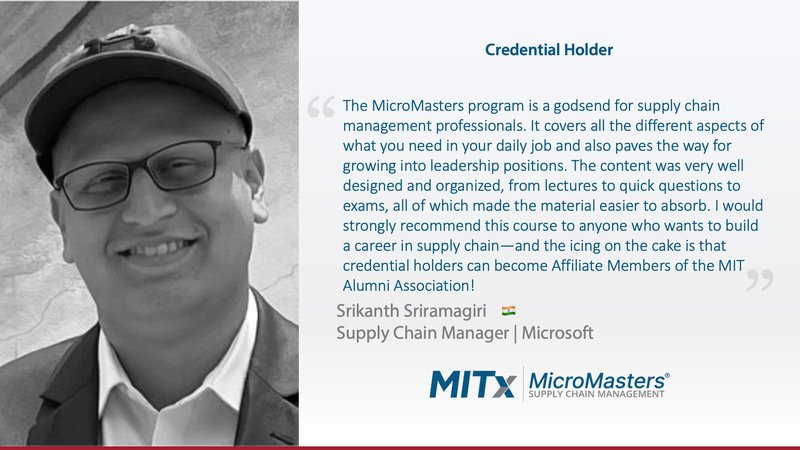 Future Course Dates
Supply Chain Analytics (SC0x): starts Jan 10, 2024
Supply Chain Fundamentals (SC1x): starts Apr 03, 2024
Supply Chain Design (SC2x): starts Jun 19, 2024
Supply Chain Dynamics (SC3x): starts Mar 27, 2024
Supply Chain Technology and Systems (SC4x): starts Jun 26, 2024
Comprehensive Exam (CFx) enrollment by eligibility: starts Mar 18, 2024
Courses delivered on