We believe outstanding learning can be available to everyone, everywhere with minimum barriers to entry. That's why we created the MITx MicroMasters® Program Credential in Supply Chain Management.
---
[02:42 Introductions, 03:43 Talent shortage, 06:04 MicroMasters program detail, 10:02 Global learner base, 11:39 Course contents, 15:31 Learner perspective, 18:35 For companies, 27:03 Custom courses. PDF slides here.]
Download Program Brochures: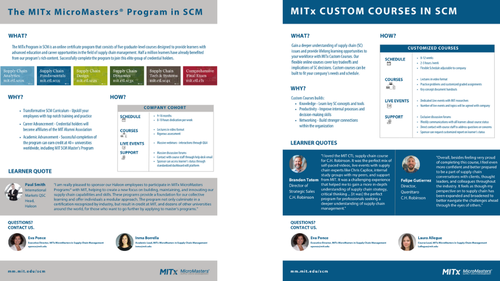 Download The MITx MicroMasters Program in SCM - Brochure (PDF Download)
Download The MMx Custom Courses - Brochure (PDF Download)
We offer group enrollments for business for groups of ten or more people.
Learn more about program enrollment with these frequently asked questions.
Inquire about creating custom courses by emailing scm_mm@mit.edu
---
Why the MITx MicroMasters program in SCM is great for your business
Effective: Massive Open Online Courses (MOOCs) allow for immediate, on-demand learning that has proven to be sometimes more effective than in-person training in certain subjects.
Engaging: Learners in MOOC programs report increased levels of engagement with materials and other learners because of the autonomous control they have over training content.
Affordable: MicroMasters program in SCM courses are delivered at a fraction of the cost of traditional training. Single subject courses are US$199-US$299 per person. The full MITx MicroMasters program credential is US$1694 (receive a 10% discount if purchased as a bundle package US$1524.60).
Flexible: Open 24/7 anywhere there's an internet connection, MicroMasters program courses in SCM give your workforce unparalleled accessibility to learn at their own pace and on their own schedule.
Scalable: Over one million people have enrolled in one or more MIT.SCx Supply Chain Management courses since 2014. Courses can be delivered to thousands of people at a time anywhere in the world.
Collaborative: Through course discussion forums, peer-reviewed problems, business games, and other interactive interfaces, MIT.CTL.SCx courses encourage collaboration and exploration in the learning process.
How do you use the MITx MicroMasters program in SCM?
Upskill and recruit the best staff: Your business success hinges on the strength of your workforce. When you engage the MITx MicroMasters program in Supply Chain Management courses, you show your current and future employees that you're invested in their career growth.
Reinvent learning and retain talent: Use the MITx MicroMasters program on its own to leverage a graduate-level curriculum from an industry-leading Supply Chain Management research center. Combine the MIT.CTL.SCx courses with your own face-to-face learning for a dynamic and sustainable corporate training model.
Choose the right courses for your needs: From a small group of learners in one course to hundreds of learners through the whole credential, the MITx MicroMasters program in Supply Chain Management gives you the flexibility to create the optimal training for your specific needs.
What our corporate partners say
Vikranth Gopalakrishnan: Vice President, Supply Chain Engineering, Walmart
"MIT CTL Supply Chain course provides our emerging leaders a comprehensive overview of key supply chain topics with the necessary quantitative rigor and pertinent frameworks. This course helps widen their perspective and elevates their expertise to tackle complex supply chain problems of the future."
Gerry Nelson: VP, North American Surface Transportation, C.H. Robinson
"This is one of the best professional development opportunities I've participated in throughout my 23 years in the supply chain industry. The MicroMasters Program in Supply Chain Management opened my eyes to the challenges being faced daily and practical tools I can apply to help C.H. Robinson continue to solve logistics problems for companies across the globe."
Jeffrey Dorko: Logistics Administrator, FEMA
"The MicroMasters Program in Supply Chain Management gives us the analytical skills our folks need to have a real impact on urgent supply chain needs after a disaster. We use the MicroMasters program to professionalize our planners and our partners in the states, municipalities and in the private sector."
Andre Shaw: SVP Demand Management, Retail Business Services, an Ahold Delhaize USA company
"As a service provider for the companies of Ahold Delhaize USA, our goal is to develop the best talent and be a supply chain of choice. The MITx MicroMasters program credential has enabled our associates to build a knowledge base that is propelling our supply chain forward."
Bill Seliger: Supply Chain Executive, LSC Communications.
"This series of courses has been a fantastic opportunity to learn from great teachers at MIT. I've enjoyed being challenged academically in my own professional field. I can whip up a mixed-integer linear programming network design study in just a few minutes thanks to all the practice in these courses!"
Ray Ernenwein: Director, Strategy & Analytics Walmart eCommerce
"The MITx MicroMasters program in SCM greatly expanded my knowledge and skill as a professional. It helped me as a leader to give technical direction to my team. It helps me influence how my organization is implementing policy at a strategic level. We have enrolled 60 staff and associates in a customized program for the team here at Walmart eCommerce. There are another seven that have signed up for the whole MicroMasters program credential."
Jes Bengstrom: Head of Planning, Europe, SAB Miller
"Supply Chain Management is changing from the classical, more heuristic model, based on gut feeling to a highly advanced model that relies on optimization methodology and analytics to create further value. Catching up with the new technology involved in Supply Chain Management is not the hardest part of this change. The hardest part is making employees think differently and more broadly about the many tools at their disposal. Based on this challenge, SABMiller Europe recognizes a need for broader training at our organization. The MicroMasters program meets this need because it is was a way we could invest in educating employees on how supply chains work and how to think about them in an effective way."
Future Course Dates
Supply Chain Analytics (SC0x): starts Jan 10, 2024
Supply Chain Fundamentals (SC1x): starts Apr 03, 2024
Supply Chain Design (SC2x): starts Jun 19, 2024
Supply Chain Dynamics (SC3x): starts Mar 27, 2024
Supply Chain Technology and Systems (SC4x): starts Jun 26, 2024
Comprehensive Exam (CFx) enrollment by eligibility: starts Mar 18, 2024
Courses delivered on