Gerry, USA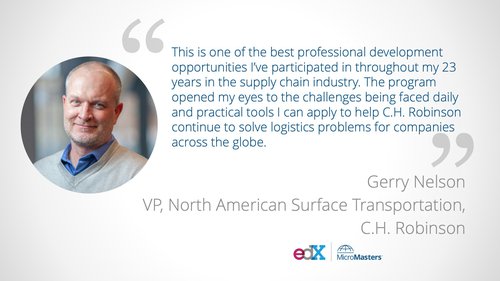 Rodrigo, Mexico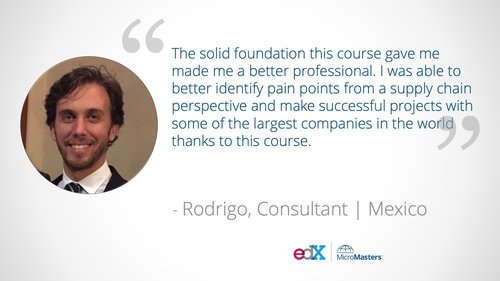 Frank, USA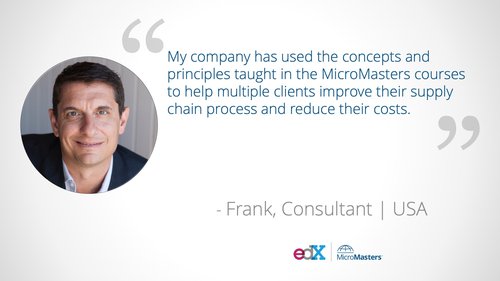 Lucas, Brazil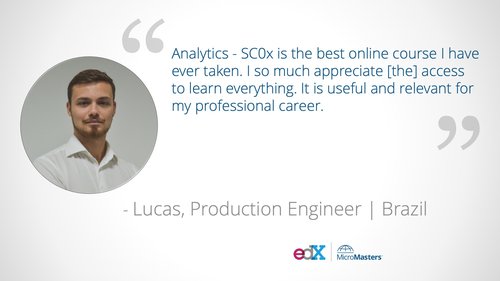 Priyanka, USA
Priyanka wanted to update her knowledge to stay competitive in the market. View more learner stories here.
Dan, USA
Dan wanted to stay ahead of industry trends and improve his professional prospects. View more learner stories here.
---
Mia, USA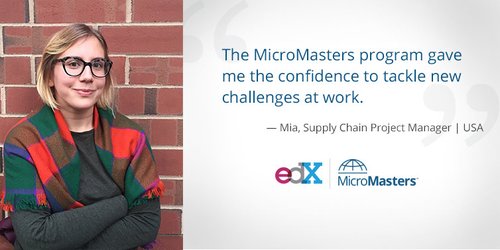 I first heard about the MITx MicroMasters program in Supply Chain Management from a coworker, and it piqued my interest. I had been working at a biotech company as a logistic technician and then moved into a supply chain role focused on improving efficiency. I loved the challenges of my new role, but with a background in behavioral neuroscience, I felt I didn't have the necessary business and supply chain skills to advance within my team. Read more on edX.



Nooree, India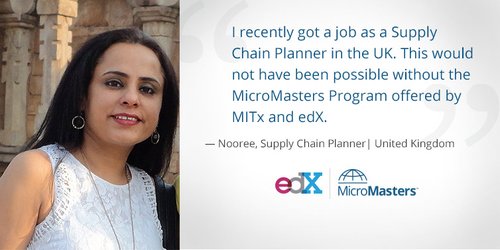 My experience in supply chain started in garment manufacturing factories in India. I later moved downstream to liaison offices between retailers, wholesalers and suppliers. I had a progressive and enjoyable career in a multinational company, which is the fifth largest trading group in the world. Throughout the years that I worked in supply chain in India, I did not have a professional supply chain degree or certificate. Read more on edX.
Mayank, India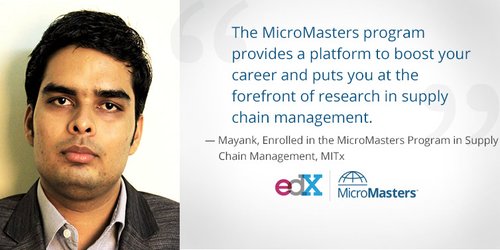 With new enhancements in computational capabilities, it is becoming easier for businesses to tackle complex big-data optimization and forecasting problems. The supply chain industry has significantly benefited from these advancements to improve planning, thereby enhancing overall operational efficiency. Read more on edX.
Javier, USA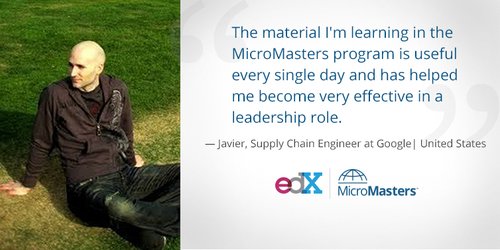 When I first joined Google's Supply Chain Engineering team, I knew very little about the domain, as my background is in search and ads. It was hard to find good resources that were general enough for someone who just started working in the area, but also concrete enough to be useful in day-to-day work. Read more on edX.
Obehi, Nigeria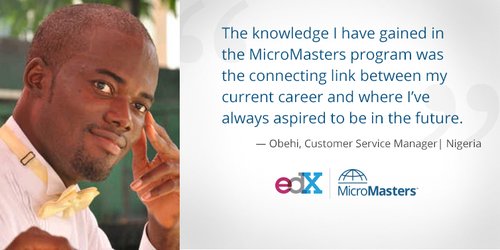 I started by taking the first course in the MITx MicroMasters program in Supply Chain Management in February, because I wanted to have fun and learn something new. Upon completing the first two courses, I realized that I had discovered my passion for supply chain management. Read more on edX.
Bill, USA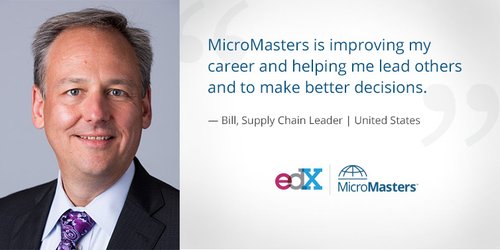 The MicroMasters program is improving my career, helping me lead others and helping me to make better decisions on the job. Plus, it's the best deal in the world! $150 bucks a class? It's just wonderful. Read more on edX.
Danaka, Canada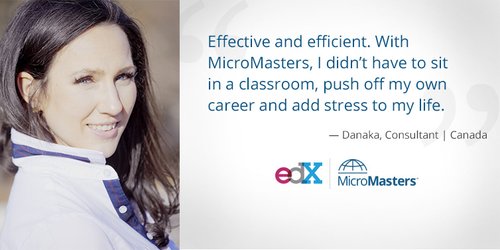 I first heard about the MITx MicroMasters program from a friend who was a graduate from the on-campus program at MIT. As a supply chain consultant, I immediately began to think about how I could better serve my clients if I was equipped with the deep industry knowledge offered by MIT's #1 ranked program. However, I knew that attending school in Massachusetts was not something I could fit into my busy life in Canada. Read more on edX.
Future Course Dates
Supply Chain Analytics (SC0x): starts Jan 10, 2024
Supply Chain Fundamentals (SC1x): starts Apr 03, 2024
Supply Chain Design (SC2x): starts Jun 19, 2024
Supply Chain Dynamics (SC3x): starts Mar 27, 2024
Supply Chain Technology and Systems (SC4x): starts Jun 26, 2024
Comprehensive Exam (CFx) enrollment by eligibility: starts Mar 18, 2024
Courses delivered on